To download and install Library Loader please visit this page.
https://www.rs-online.com/designspark/pcb-part-library
Download the zipped file and extract it to a temporary folder using your prefered folder name.
From the now displayed extracted folder (or navigate in to the folder) open the Library Loader folder and double-click the ".msi" file to install the Library Loader application.
Setting up instructions.
Important Note.
Follow the sequence below which includes registration if this is a first time installation. Pay particular attention to point 3 the configuration of Library Loader to your download folder and point 5 the selection of your target DesignSpark PCB Library folders.
The Library Loader intentionally has a tiny IT footprint & is installed in less than 1 minute. Once installed it will stay quiet and just work its magic converting PCB Libraries you download from supported websites and placing the Symbol / PCB Footprint to your cursor in your ECAD Design.
1. Open Library Loader. This can be done either by clicking on the icon on your desktop;

or by checking your system tray – and if library loader is already running in the background – open it from there. This can be done by following these steps: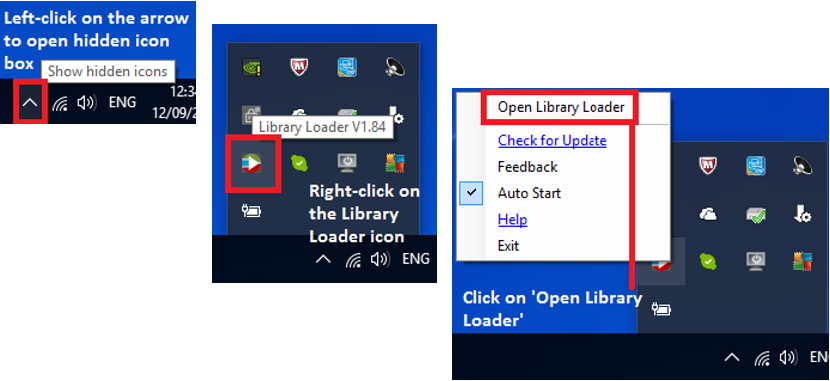 2. If this is the first time you have used Library Loader, you will need to register. However, if you have just updated to a new version of Library Loader, you will not have to do this.
3. Make sure the 'Downloads Folder' matches the location where your web browser downloads files to. NOT a DesignSpark PCB Library.
4. Select your ECAD tool.
5. Click the 'Settings' button and fill in the options for the target library
Select your schematic (.ssl), PCB (.psl) and component (.cml) target library.
6. Click the 'Search for Parts' hyperlink to begin your part search
7. You can click on the 'Profile' hyperlink to view and edit your profile, the 'Feedback' hyperlink to leave us any feedback you may have, or the 'Help' hyperlink.
Once Library Loader is configured parts will appear on your cursor inside your ECAD tool after you click one of our icons on a supported website.
Updated 2020016